Upcoming Summer 2022 Events Near Eastmark
Looking to take the family for a day of fun to celebrate Independence day or for an enjoyable summer outing? Look no further than these East-Valley events coming up in the next few months:
July 4th Fireworks Displays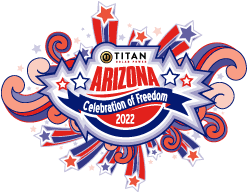 The City of Mesa is hosting its annual Arizona Celebration of Freedom. One of Mesa's signature summer events, the Arizona Celebration of Freedom is a FREE event for the whole family. It will be held in Downtown Mesa on the campus of the Mesa Convention Center and Mesa Amphitheater along Center Street between 1st Street and University Drive. The event begins at 6pm on Monday, July 4, 2022 and will last until approximately 10pm, once the fireworks show concludes. There will be local food and drink vendors including some of Mesa's signature restaurants to sell snacks, sandwiches, and non-alcoholic beverages. Beer gardens will also be available near the Mesa Amphitheater stage.  There will be live music at Stage America with acts like Kav, Mogollon Band, and a special "Salute to America" program that will lead into the fireworks around 9:15pm. Attendees are welcome to bring lawn chairs or blankets to sit on the lawn by the musical stage. There will also be a BMX stunt show throughout the evening near the food court and the Great All-American Car Show, a 4th of July staple in Mesa with over 50 American-made vehicles spanning decades. This event will also have historic reenactments with We Make History, who will put on a living history display of the founding of our nation. Kids will love the Yankee Doodle Kids' Zone with carnival-style games as well as the Kool Zones and inflatable water slides. Make sure to bring plenty of water bottles with you, as well as portable chairs and blankets. Outside food and small bags/backpacks/coolers are all permitted. Only service animals are allowed into the event. Card payments will be required for food, drinks, and other merchandise. For more information on bike stunt show times and performances, check out their website.
Gilbert is hosting the Gilbert 4th of July Celebration on Monday, July 4, 2022 from 5:00pm to 9:30pm at Gilbert Regional Park near Higley and Queen Creek Roads. This event is FREE and family friendly, featuring live performances and aerial entertainment at the park's amphitheater and great lawn, as well as a fireworks show to end the evening. The musical performances for the night will be The Ultimate Tom Petty Experience, playing from 5:30pm to 7pm and The Ultimate Bon Jovi will entertain the crowds from 7:30pm to 9:00pm. There will also be a variety of food, drink, and dessert trucks on site at the event. Alcohol, glass containers, pets, and consumer fireworks are prohibited, but you are able to bring in outside food and beverages. They suggest also bringing seating like lawn chairs and blankets, bug spray, water, and sunscreen. Gilbert is offering an option to add on VIP Experience tickets which includes premier seating for the live performances, exclusive food and drink vendors, private restrooms, water bottles, and Gilbert swag. VIP tickets are $25 (plus tax and fees) per person, children under 2 are free.  Purchase tickets online. As a reminder, the entire Gilbert Regional Park will close starting July 3 at 10pm through the morning of July 4, until the gates open for the Independence Day celebration.
In Chandler, another FREE event will be taking place on Monday, July 4, 2022 from 7pm to 9:30pm at Dr. A.J. Chandler Park near Downtown Chandler. There will be live music, yard games, food vendors, glitter tattoos, balloon art, and more. Two hour-long sets of live music will be performed by Cold Shott and the Hurricane Horns.
Tempe's Independence Day Celebration "Red, White, and Floom!" will be held earlier in the weekend on Sunday, July 3, 2022 from 6pm to 10pm at Tempe Beach Park. This event is FREE. There will be live music from 80's cover band Rock Lobster and activities for kids. Instead of fireworks in Tempe this year, they will host a floating fire show on Tempe Town Lake, called "flooms", choreographed to patriotic and pop music. Food and beverage will be available for purchase.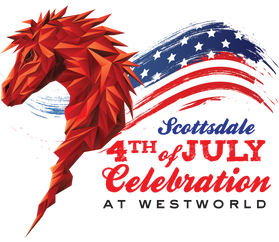 Scottsdale is also hosting an Independence Day celebration on Monday, July 4, 2022 from 5:00pm to 9:30pm at WestWorld of Scottsdale. This air-conditioned event in the North Hall features tons of kid's events like live performances including Encanto's "We Don't Talk About Bruno", performances from an America's Got Talent dog stunt show, a TikTok creation theater, cake walk, balloon artists, face painting, and dancing, as well as bull riding and mutton busting. This event is cashless, so make sure you have card payments available. The night will end at approximately 9pm with the largest fireworks display in Scottsdale set against the McDowell Mountains! Check out their website for a full detailed schedule of events. Families may attend the full slate of evenings events or attend the fireworks show only. The parking lot will open at 5pm for firework only viewing, the cost is $20 for a carload before June 27 and increases to $25 per carload after that. All event attendees will have access to the fireworks from a special firework viewing area as well. Tickets are available online and have various tiers. The Indoor Backyard Barbecue option include access to the air-conditioned North Hall and Rodeo Arena, all you can eat BBQ, hot dogs, chicken, hamburgers, salad, and dessert, family friendly entertainment, and that exclusive firework viewing area. Doors for the event open at 5pm. The ticket does not include parking, which is an additional $10 per car.  Adult prices for ages 11+ are $40 per person, ages 5-10 are $20 per person, and children under 5 are free. Indoor Access tickets include access to the air-conditioned North Hall and Rodeo Arena, food available for purchase (but not included with ticket), family friendly entertainment, and the exclusive firework viewing area. Tickets for this option are $15 per person for all ages, except children under 5, who are free. All prices will increase by $5 after June 27.
Other Summer Events
Mermaid Fitness Paddleboard and Yoga classes are an ongoing summer outing option in both the Mesa and Chandler areas on either Tuesday nights from 7:00pm to 8:15pm or Saturday mornings from 8:00am to 9:00am, respectively. The Mesa location does 25 min paddleboard yoga, 25 min mermaid swimming, and 25 min water aerobics in the lazy river against the current. The cost is $15 per class for ages 10+ and classes run now through the summer until September. Date and times are available to reserve online.
Bell Bank Park is also hosting a slate of events over the summer months. Coming up first is an event called Summer Nights at Bell Bank Park, which will be held June 18 from 7pm to 10pm. This event is a new family-friendly concert and entertainment series. It is FREE and will feature live music by country artist Josh Roy, yard games, water games, obstacle course, BBQ hot dogs and hamburgers, and more!
AZ Mom Squad is hosting an event, the East Valley Family Festival, on Saturday, July 30 from 9am to 6pm. This indoor festival will be hosted at Bell Bank Park and will be a great chance for families to beat the heat and shop, eat, and play with over 100 local businesses selling their products and services. There will be something for adults and children of all ages, including a variety of classes like business classes, arts and crafts, cooking, and more! The event will have sports tournaments and character photo ops every hour, plus activities to keep kids busy while parents are shopping. Admission is free.
Finally, Bell Bank Park is hosting a series of 5k runs for the remainder of the year. At each event, participants will receive a t-shirt and medal, plus runners 21+ will receive a coupon for a free beer or seltzer. Awards will be given out for overall top 3 finishers and points will be awarded for all finishers over the course of the 5k series that will go towards prizes at the December event at the end of the year. The more events you participate in, the more points you accumulate! These races are open to all ages and participants with strollers or little ones under 8 must use the 1.25-mile course. Registration is available online for each race and the cost is $30 per race. The upcoming summer events include:
As the temperatures rise in the Valley, there's no shortage of fun, family friendly events coming up!