Splash or Dash: Pool Value and Trends
With summer in full swing here in Arizona, many residents are able to go to their backyard to beat the heat and enjoy time by a pool. Pools are one thing that homebuyers, especially in the summer, are often looking for. But they can also be somewhat of a divisive topic; do pools really add value to a home? And what are the hottest trends if you are thinking of adding a pool to your backyard?
Swimming pools are among the top features of a home that are contentious; some prospective homeowners wouldn't imagine buying a home without a pool, whereas others do not want the added hassle. During the pandemic, a pool's value was increased as people had less access to public spaces like community pools or HOA amenities. A new appreciation was born for being able to get exercise or entertain in your own pool oasis and everyone in the family, from kids to adults, was able to get use from it. Pools can also add value to your home when the pool can be used year-round. For homeowners in Arizona this is what makes having a pool so appealing, as it can be used for most months of the year. However, maintenance can be a chore and everything from repairing broken parts of an existing pool to adding your own pool to your backyard can get expensive, not to mention the cost of electricity and chemicals to keep the pool running. Another concern for folks who prefer to not have a pool is safety and liability. Definitely things to consider from both sides of the pool debate.
For a pool that is well designed and well maintained, it would be hard to consider it a detraction to your home's value, especially in Arizona. Afterall, everyone wants to buy a home with lots of upgrades and a well done in-ground pool can be something that attracts buyers. If you're thinking of adding a pool to your home, some of the top features that have become popular over the recent years include:
Tanning Ledges/Baja Benches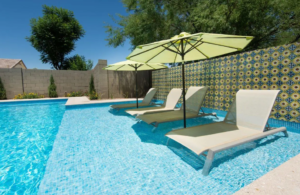 Tanning ledges, Baja benches, or sun shelves are all one in the same name of a shallow structure that a pool can include. They can come in all shapes and sizes but are commonly a top entry step that can fit lounge chairs to facilitate relaxing, playing with smaller children, or tanning in a shallow pool. They often include a pole sleeve so you can pop in a patio umbrella as well for added shade.
Swim-up Bars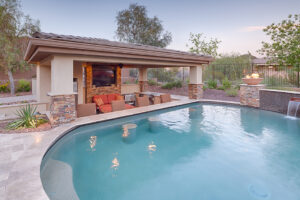 Made popular at resort swimming pools, swim-up bars have become more popular in residential pools as well. These are great for entertaining in the backyard, as it promotes interaction between the swimmers in the pool and those outside of it. The main features are barstool seating in the pool and a countertop area. There can also include another element, a sunken area called a vault on the "dry" side of the bar's countertop, which are often shaded and can include TVs, mini-fridges, and other bar, grilling, or kitchen features.
Zero Entry Pools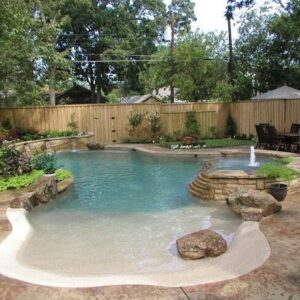 These can also be called a beach entry pool because it has a sloped entry that looks sort of like a shoreline. The gradual entry into the pool doesn't include a ledge or ladder and are typically easier to get into for children and the elderly. It's a cool feature to add a beach-like feel to your pool.
Infinity Edges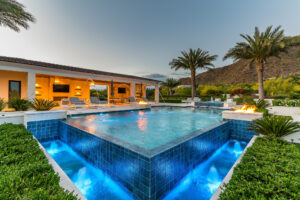 Infinity edge pools have grown in popularity, especially in places that have beautiful scenery. These edges make it look like the pool has no edge and it makes it easier to enjoy the surrounding scenery.
Cocktail or Plunge Pools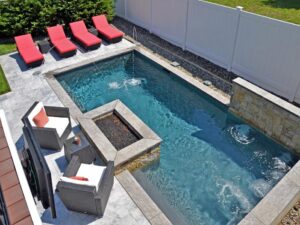 Perfect for smaller families or for homeowners with smaller backyard spaces to add a pool, niche pools are pools that come in a variety of shapes and sizes, often times unique and smaller than an average pool. A cocktail pool, for example, is a pool that is similar to a spa because jets can be installed, but it is larger than a typical spa. Plunge pools are another niche pool that have become more popular. The plunge pools tend to be deeper than cocktail pools and are designed for relaxation or fitness. They don't typically have jets and are about 8 feet in perimeter and can be built up to 16 feet deep.
Fire and Water Features and Bubblers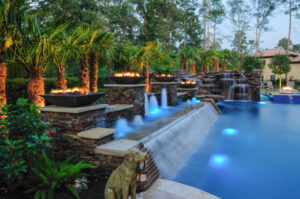 Fire and water features have been a hot addition to pools in recent years. In addition to firepits in backyards, pool owners have been combining water and fire features to give their backyard a more resort-style feel. These can include fire and water bowls, which have a fire bowl on a pillar or wall with water to cascade down the pillar or wall into the pool. Another popular feature is the decorative bubbler-style fountains that are commonly found in the Baja benches. These vertical bubbling plumes can add a touch of relaxation to the sounds of running water and can also be up lit by LED pool lights for a color changing light show.
Grotto and Slides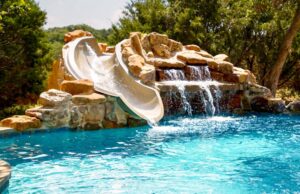 Grottos are a special style of rock waterfall that incudes large, flat stones full of cascading water, with a small cave feature beneath or behind the waterfall. It is good for providing shade in the pool as a place to relax and can be fun for kids to hide out in. These rock structures can also include slides that are built into them to give it a seamless look.
Smart-pool Technologies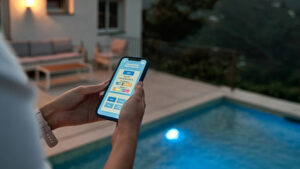 Digital technology has made its way to pools as well. There are now features available that let owners control lights, water features, and even umbrella automation and maintaining water sanitization, filtration, and chemistry. Other apps can control the pool equipment and water temperature. Moving forward, more and more pools will be built with this type of technology in mind.
As with any home design feature, opinions will vary when it comes to wanting a swimming pool in your backyard or not. If you and your family would get use out of it, then it is a perfect addition or well worth the search to find a home with a pool.